Heard of Soul Poles? The company has been around for over a year, but not yet two. In that short amount of time they have made TONS of progress spreading the word…
No snow. No ski. That's the simple fact of global warming and the grim predictions of disappearing alpine snow. And it inspired Soul's singular focus: Innovate the greenest equipment in the snow sports industry by merging sustainable design with uncompromising performance and truly original style. Read more…
I knew they were in PC, and although I heard the company name mentioned by friends, and saw some stuff online, I only just recently had a closer look. It took hearing Park City resident Bryon Friedman (Soul Poles founder) on KPCW (our local radio station) talking about their bamboo trekking poles for me to think to myself: Hmmm, I need to email Bryon and see if I can check these out. So I did. Bryon responded immediately, had me in to the shop for a tour and set-up me up with some "Original Soul" poles for this winter. To say I am "Psyched" is an understatement.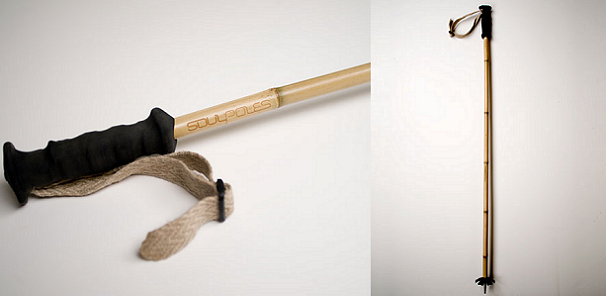 As soon as I held them in my hands, my first thought was that everyone is going to be asking me about these on the lift. I know I would be intrigued if someone sat down next to me with Soul Poles. REALLY slick and unique looking product! Of course the best part to me is that they are sustainably manufactured BY HAND here in Park City, not to mention their durability.
Some Soul Poles highlights include:
Sustainable Design: Unlike traditional ski poles, Soul Pole's 100% biodegradable bamboo shafts create a minimal environmental footprint. Other green design ingredients?

Water-based, low VOC paints.
Grips and baskets made of recycled plastics.
Recycled aluminum tips.
Straps made of a blend of hemp and recycled poly.

Optimum Performance: Don't let the retro look fool you. These are solid poles designed by former U.S. Ski Team racers competing at the World Cup and Olympic level. They give you balance and stability, and help you push into the fall line whether you choose to ride a first descent in the backcountry or to an apres ski party at the base of the lodge.
True Originality: Soul Poles are functional art, designed and hand-painted by acclaimed artist R. Nelson Parrish. On a mountain of mass-produced sameness, distinctively unique Soul Poles makes your individuality stand out. They can even be personalized with your name or logo.
Eco Activism: Every pair of Soul Poles helps save our snow—they pledge 1% of gross revenue to environmental initiatives that support: 1% For The Planet, POW – Protect Our Winters, and World Cup Dreams Foundation.I am committed to telling more of the Soul Poles story here at SBP, so stay tuned.