Let's try to reverse engineer this. The building blocks include an abundance of low-density snow, a deep snow-pack, cold temps, blue skies, and committed skiers. Oh yeah, and probably the easiest access to quality powder skiing the lower 48 has to offer.
Ask any devout powder skier in the USA to identify that place, and they would probably tell you that it's the Wasatch Mountains of Utah. In this day and age when you have real-deal, legit powder skiing (and the people who come and stay for it!), you have legit media. Lots of it.
The commercial "skiing" websites have snow reports and accommodation listings, but they lack an authentic voice from those "living the dream" daily. For true authentic voices of the Wasatch, follow these four Utah skiing Facebook pages…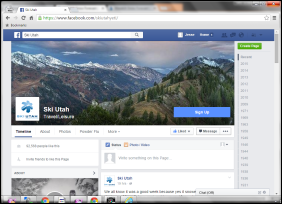 Ski Utah – Ski Utah is a Destination Marketing Organization owned and operated by the Utah Ski and Snowboard Association. The Utah Ski and Snowboard Association is a non-profit trade organization founded in 1975 with the aim of promoting Utah's ski and snowboard industry. Ski Utah is also the brand name by which both organizations are commonly referred to. Follow Ski Utah on Facebook (with nearly 100,000 others!) to access timely and important Utah skiing notifications and content.

---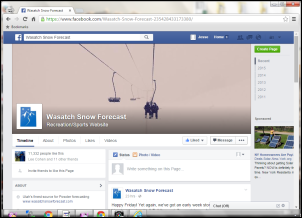 Wasatch Snow Forecast – Utah's finest source for Powder forecasting, Wasatch Snow Forecast is a weather blog devoted to discussing and forecasting snowfall for Northern Utah. WSF is brought to you by Evan Thayer, a hobbyist meteorologist and avid skier who grew up constantly searching for the perfect snowstorm and deepest powder. Follow Wasatch Snow Forecast on Facebook and be the first to know when Evan publishes a post.

---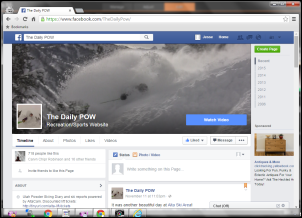 The Daily Pow – Utah's premiere powder skiing diary and ski reports powered by AltaCam. AltaCam.com was originally the business website for T&T Bike and Ski, a shop that was located at the base of Little Cottonwood Canyon. In 2008 it was acquired by GravityFed, and TheDailyPOW.com was launched shortly thereafter. Follow The Daily POW on Facebook for ski reports in short, creative video format.

---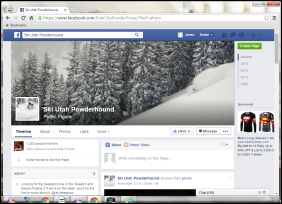 Ski Utah Powderhound – The Park City Powder Posse is always looking for the deepest snow in the Wasatch, and consistently finding it. If they're on the stash, you'll be the first to know about it through killer photos, videos and editorials. There are members of this crew associated with Ski Utah, so it's the same great videographers and photo bloggers bringing it to you here. Follow Ski Utah Powderhound on Facebook or Twitter (@iskideeppow) and get the daily grind from deep the Wasatch.

---
Stretch, Shred, Eat, Sleep…..Repeat. Ski Bum Poet is the powder skiing and lifestyle diary of a Utah skier.