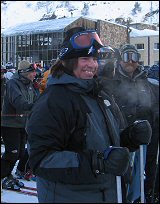 If you were to look up "Alta Personalities" in the dictionary, you would likely see a picture of Rob Rowley. Well not really, but you get the point. Rob is a great friend of ours. He lives in Virginia full-time, always has. Yet he's a 20 year pass holder at Alta. He's addicted to first chair, and when he misses getting that his whole game is off.
Back in February of 2007 I posted about Johnny B interviewing Rob for segment on Powder's web site. The featured was named, rightly: The Fresh Prince of Alta
Well it was time to roll out the AltaCam exclusive of Johnny B interviewing Rob, to start off the 2008-09 podcast series on the right foot. As always, it's incredibly entertaining. You can tell these guys are old friends, which makes it that much better. Enjoy!
Johnny B: Yes. I got another question to ask you. A lot of people want to know this, I want to know it, everybody wants to know it. What's your obsession with getting first chair?

Rob: Well you know, the whole first chair thing is a disease that just kind of grows on you. First I never really cared about first chair. Then I kind of cared about being upfront. Then all of a sudden, once you get addicted to that first chair, you get a real taste of it, then it's almost like you can't stand to have second. And it gets to be an obsession compulsion kind of thing where I wake up and from the minute I wake up on a powder day, I'm obsessed with getting there.
Listen to Podcast & Read Transcript: Rob Rowley Interview & Podcast
BTW the "To The Wall or Not At All" in the headline refers to Rob's unwavering devotion on the Devils Castle sidestep. He doesn't stop until the end. Every time. Sometimes five times in a day. Another obsession 🙂